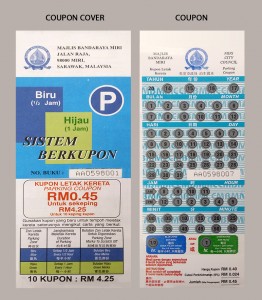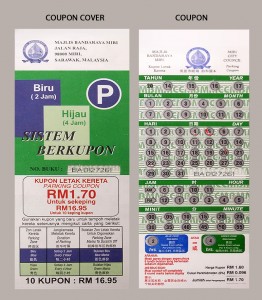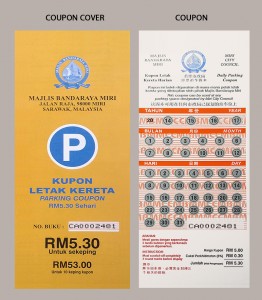 Parking coupons can be purchased from all of the 15 parking coupons booths located at strategic location in the City of Miri. Please click Find BPS BOOTH for the one nearest to you.
The common denominations, i.e. RM0.40, RM1.60 and RM5.00, parking coupons (exclusive of government tax) are available at all BPS coupon booths.
Please take note that RM0.40 parking coupons can only be used for the 1st half hour of parking at blue zone and first 1 hour at green zone, the RM1.60 parking coupons can be used 1 hour at blue zone and 2 hour at green zone while the RM5.00 is a daily parking coupon (1 full day parking coupon)
Decide on how long you are likely to stay on arrival at a parking space, scratch off completely the 5 relevant tabs (year, month, day, hour & minutes) and display the coupons prominently, visibly and neatly on the dashboard in front of you.
For those who have over parked, BPS parking wardens will issue over parking compound (OPC) which they will have to pay within fourteen (14) working days after the date of the OPN issued at BPS coupon booths. Please always ensure and check your receipts when making payments at the parking booths.
Please always tear of a piece of coupon from the coupon booklet for display at the dashboard and not the whole booklet as the direct heat from the sun will dry up the ink making them hard to scratch off later.
HOW COUPON PARKING SYSTEM WORKS
Buy parking coupons in advance
Plan your parking period, if you need more than 1 coupon to cover the parking duration, the start time of the second coupon should be the expiry time of the first coupon.
Scratch off completely the six relevant tabs to indicate the year, month, day, commencing time of parking (hour and minute) and lastly parking either at blue or green zone
Display the coupons visibly and neatly on the front dashboard of your car. Do not leave any used coupons on the dashboard of your vehicle
TYPES OF PARKING COUPONS AVAILABLE
PARKING CHARGES FOR CARS
AT BLUE ZONE (BLUE NUMBERING)
RM0.42 (inclusive of 6% GST)
per 1/2 hourly
RM1.70 (inclusive of 6% GST)
per 2 hourly
RM5.30 (inclusive of 6% GST)
per day/daily coupon
AT GREEN ZONE (GREEN NUMBERING)
RM0.42 (inclusive of 6% GST)
per hourly
RM1.70 (inclusive of 6% GST)
per 4 hourly
RM5.30 (inclusive of 6% GST)
per day/daily coupon
COUPON PARKING HOURS/WORKING HOURS
Monday to Thursday
8am to 5pm
Friday
8am to 11.45pm
2.15pm to 5pm
(Except Saturdays, sundays and public holidays)
ADVANTAGES OF COUPON PARKING SYSTEM
Easy to use system
Unexpired coupons can be used to continue parking at another car park
No need to queue to enter car park and make payment at exit point
No jam when parking and exiting the car park
No need to search for parking machines to make payment
No inconvenience due to break down, no electricity or ….. of payment machines
System is the cheapest in the world unlike electronic systems which are very expensive to set up.
ENFORCEMENT
Parking wardens inspect vehicles
Issue over parking compounds and parking offence notices
FINES
COMPOUND FEE
PARKING OFFENCES
COMPOUND FEE
PARKING OFFENCES

RM20

Article 8(1)

Without displaying coupon(s).

RM30

Article 3(2)3(4)

Parking at any place other than in a parking space provided nearby.

RM50

Article 9(1)9(2)

Displaying used coupon(s).

RM30

Article 3(3)

Parking of vehicle in the parking space not designated for that class of vehicle(s)

RM20

Article 10(1)

Coupon(s) not clearly displayed.

RM30

Article 7(1)

Parking not entirely within the area marked out as parking space.

RM50

Article 19(1)

Causing Obstruction to a parking space.

RM30

Article 13(2)

Failure to produce/surrender coupon(s) when required.

RM20

Article 10(3)

Using coupon(s) ahead of time.

RM30

Article 17

Others